Docks
Custom designs and quality craftsmanship. Lovell docks are professionally built with the highest quality materials to endure the tough conditions of South Florida.

Pilings
Design, install or extract. Using both traditional and cutting-edge methods, mooring pilings are built to protect your vessel.

Seawalls
We are equipped and experienced to handle the build-out and repair of all residential and commercial seawalls.

Boat Lifts
Let us recommend and install the perfect PWC or boat lift solution for any application or type of vessel.

Dredging
Whether canals, marinas or lakes, Lovell Marine has the equipment and expertise to handle everything from permitting to disposal.
Lovell Marine Construction is a full-service marine construction company.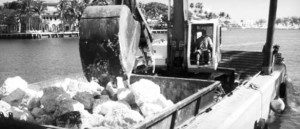 Why Choose Us
With over 30 years of combined experience in marine construction in South Florida, our team stands for honesty, solid workmanship, fair pricing and on-time delivery. Most marine construction companies outsource aspects of a project which can mean using resources not always committed to your project. It can also mean unnecessary markups on the cost of labor and equipment rentals. At Lovell Marine we own our equipment and employ our own resources allowing us to keep costs down and control every aspect of your project.
We don't claim to be the biggest, but we are great at what we do and we care about delivering quality services and products to our customers each and every time. That is why Lovell Marine has been able to maintain a reputation for excellence for over 30 years in South Florida marine construction.
Talk to us about your Deck, Dock or Seawall project today.